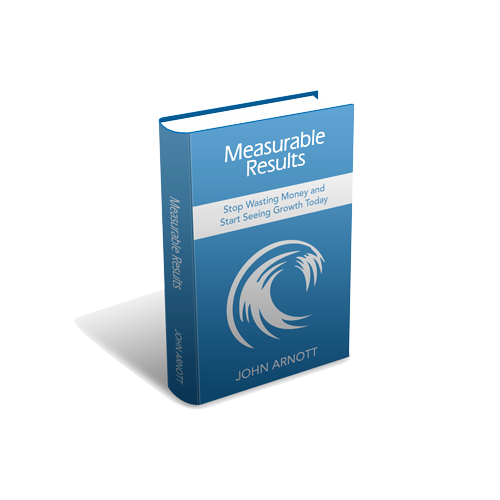 Measurable Results: Stop Wasting Money and Start Seeing Growth Today
You're a business owner. You're looking for a way to grow your business, and you know marketing is a vital part of that growth path. But there are so many conflicting sources of marketing information out there – how do you know you're not wasting money on ineffective or outdated techniques? After all, marketing changes quickly these days, and it can be hard to keep up.  
What you need is a digital marketing plan that gives you results, and the techniques to measure those results.
This book will give you the tools to do both of these critical tasks. It will give you a strong grasp on the ins and outs of digital marketing – how to develop your online presence that speaks for your brand, how to find potential customers and nurture them to a sale, and how to build a strong reputation and community around your brand. These technical details are essential – they're the foundations of digital marketing, after all.   
But the most important part is learning how to measure your results. Digital marketing provides us with a wealth of data – if you know how to collect and interpret it, you can ensure you're always making the most effective use of your marketing budget. No matter the size of your company and your budget, you want the most results for the lowest cost. And you can only get that if you can measure your marketing results to find what's working.  
Why did I write this book? I've been helping businesses like yours thrive through the power of digital marketing for years. It's my passion – I want to give every business owner the opportunity to succeed.  
It's not an easy process – you'll need to bring a few things to this process to ensure success. You'll need an open and curious mind, a willingness to think differently, and an analytical mindset. And a notepad and pen. But the investment of time and thought will pay off in a focused, data-driven plan that works for the unique needs of your business.  
Let's get started. I look forward to taking this journey with you.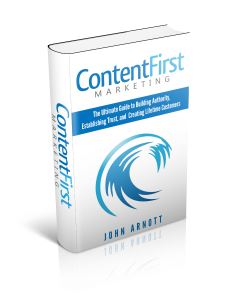 Content First Marketing
Are you unable to make sense of digital marketing? Are You Sure?
Content First Marketing takes the aspiring digital marketer through each of the key tactics that make up a digital marketing strategy and answers such questions as:
•How can I create great content that people will read and share?
•Is Google still relevant?
•What is the digital marketing life cycle?
•What needs to be measured to ensure success?
•How exactly does content lead to new sales?
Stringing these tactics together includes:
•Writing content that readers and search engines love
•Leading with a great headline
•Building authority with social media
•Measuring engagement with email
•Creating low barrier products that lead to core product sales
•Marketing analytics
For professional marketers as well as entrepreneurs and small business professionals, Content First Marketing is an indispensable guide. And John Arnott's upbeat, friendly style is like having a first-rate marketing partner every step of the way.
"This is a powerful, practical book that shows you exactly how to build and maintain a highly profitable online business" – Brian Tracy Author – The Psychology of Selling
"John's eye opening insights hit the strategic points that all companies need. His tips are invaluable to the success of your business…especially the mid-sized companies competing against the behemoths. The headline tool alone was worth reading."
Ray Pekowski – President and CEO | The Expo Group
"Getting beyond the noise and being heard is the marketer's objective. John Arnott takes us through each of the key digital marketing components and shows how they are used and how they fit together so that you can manage your own digital marketing efforts." – George Lollis Managing Partner, Opus-3 Data Center
"An indispensable asset for the entrepreneur, John Arnott walks through the tactics that support a successful digital marketing strategy" – Mike Curtis President, Texas Envelope Company
"A successful business needs more than a great product or service, it needs customers. The Content First Marketing approach to driving new customers through digital channels works" – John Truitt CEO – Simple Sleep Services
"Today, it all starts with great content. Whether it is a well-written post or a compelling video, content is king! Promoting great content to your fans is the first step to engagement and John Arnott shows us exactly how to do it. I highly recommend this book to anyone looking to grow your business online. You won't be disappointed!" – Michelle Prince Ziglar Certified Speaker & Self-Publishing Expert