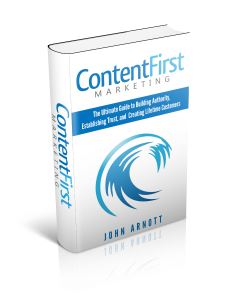 Get Your FREE copy of ContentFirst.Marketing – everything you need to know to drive more business from online sources!
Logo







I WILL SHOW YOU HOW TO TAKE YOUR BUSINESS TO THE NEXT LEVEL
WITH A PROFITABLE BUSINESS THAT GROWS ITSELF.
Hi,
I'm John Arnott!

After three decades in business, various accomplishments and accolades (like the 5th fastest growing business in DFW), and plenty of trial and error, I know what works and what doesn't. I've perfected my method and grown my business into a self-sustaining one, allowing me to step away from the daily activities of my office with confidence.
My passion is seeing other business owners grow their businesses and succeed.
I've tried it all and I've discovered what works and what doesn't. My promise to you is that I'll only give you tools, insight, and action steps that work to help you reach your goals. No BS. No gimmicks. No unnecessary sugar coating. You deserve a business that grows itself and freedom to enjoy the life you imagined when you first got started.